3sHealth delivers innovative change and provides province-wide shared services to support Saskatchewan's health system.
Working together with our health system partners, we find innovative solutions to complex problems so that health care will be sustainable for future generations. We place patients and their families at the centre of all that we do, working with our partners to improve quality and ensure patient safety. 3sHealth provides payroll and scheduling, employee benefits, dictation and transcription, linen, contracting, and transformational services to the Saskatchewan health system.
Mission
Partnering to solve complex problems and improve health care across Saskatchewan.
Vision
Healthy People, Healthy Communities, Healthy Partnerships.
Values
Collaboration: We bring the right people together to achieve common goals for the benefit of the people of Saskatchewan through active participation, two-way communication, and mutual respect. We believe that the best outcomes happen when we share insights and build on each other's strengths.
Innovation: We are creative, strategic thinkers who are open to exploring all possibilities that will improve the quality of patient care and realize better value for the health system. We fearlessly take on new opportunities and work closely with our partners to implement and sustain positive transformational change.
Respect: We listen to one another and seek to understand the diverse needs of our communities and stakeholders. We demonstrate integrity and honesty in all that we do, and we take responsibility for our actions. We follow through on the commitments we make, build trust, and enable one another's successes.
Transparency: We foster a culture in which people feel empowered to discuss and address critical issues in a safe and supportive environment. We believe engagement and the sharing of information enables good decision-making and leads to better outcomes.
Bold and Courageous Leadership: We are brave and willing to try new things. We put patients and families first, inspire each other and show initiative, work with others to put innovative ideas into practice, and take thoughtful risks to advance the vision of better health care in Saskatchewan.
Leadership Team
Governance
The Ministry of Health sets strategic direction, establishes goals, and allocates resources for Saskatchewan's health-care system. 3sHealth is governed by the 3sHealth Board of Directors, which is appointed by the Governing Council.
Board of Directors
3sHealth Governing Council
The 3sHealth Governing Council is responsible for planning and organizing provincial services, determining the mandate, services, funding parameters, and governance for 3sHealth, and appointing the Board of Directors. The Council is made up of representatives from the Saskatchewan Health Authority, the Saskatchewan Cancer Agency, and an affiliate representative:
Arlene Wiks – Saskatchewan Health Authority.
Randy Rooke – Affiliate representative (non-voting).
Ron Waschuk – Saskatchewan Cancer Agency.
Annual Reports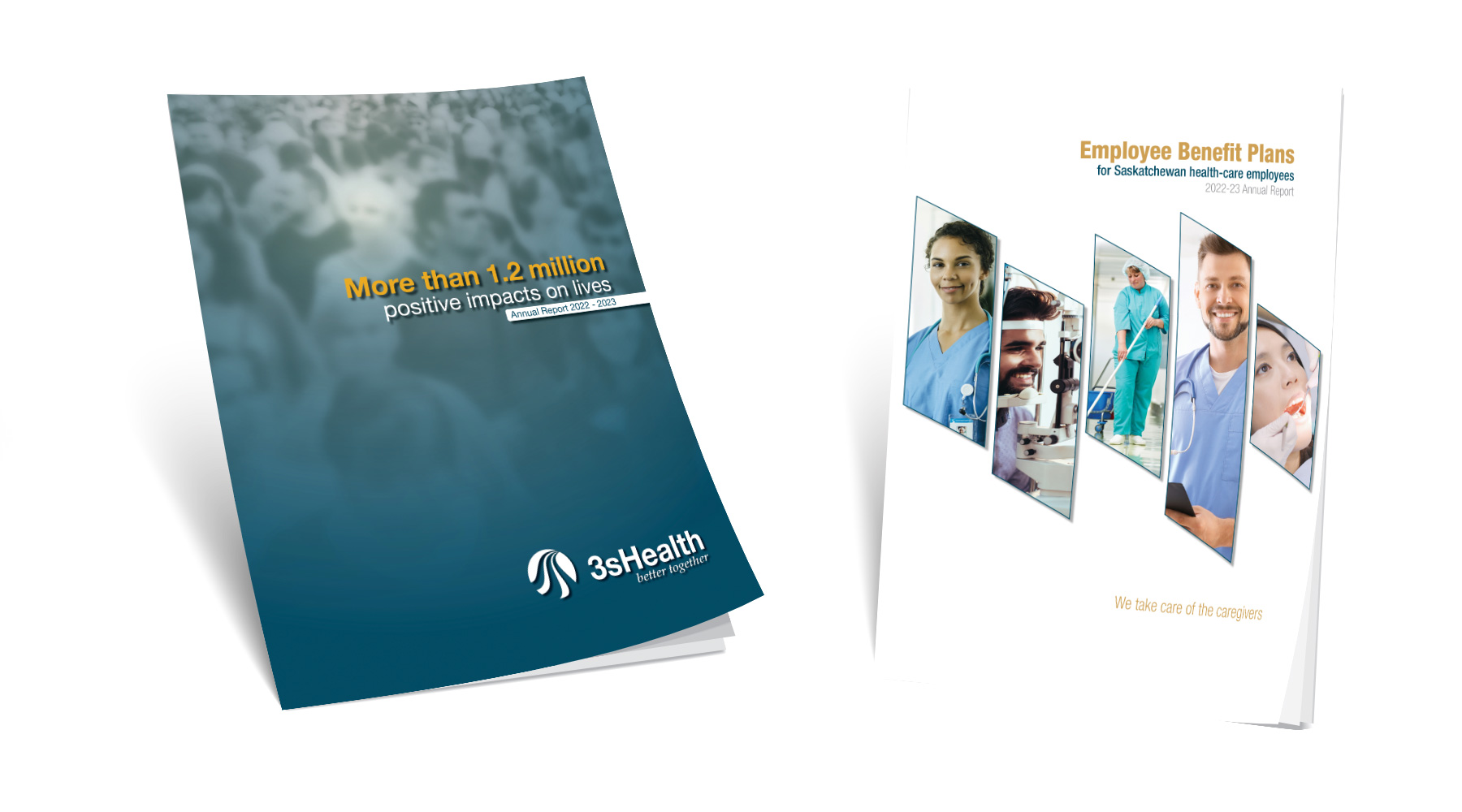 3sHealth Annual Report - 2022-23
3sHealth publishes an annual report every year to inform the public about its activities and to provide financial statements to its stakeholders.
Our latest: The 2022-23 Annual Report
Published: 27-Jul-2023
Visit "News and Publications" for archived annual reports.
Employee Benefit Plans for Saskatchewan healthcare employees Annual Report - 2022-23
Our latest: Employee Benefit Plans for Saskatchewan health-care employees - 2022-23 Annual Report
Published: 24-August-2023
View the 2022 financial statements of each employee benefit plan, here.
Partners
First Nations and Métis/Michif land acknowledgement
We acknowledge that 3sHealth works and meets on the territory covered by Treaties 2, 4, 5, 6, 7, 8, and 10, the traditional territories of the Cree, Saulteaux, Dakota, Lakota, Nakota, Stoney, and Dene, and the Homeland of the Métis/Michif. Recognizing this history and the Truth and Reconciliation Commission Calls to Action are important to our future and our efforts to close the gap in health outcomes between Indigenous and non-Indigenous peoples. As treaty people, we pay respect to the traditional caretakers of this land.
Become a customer
3sHealth prides itself on providing the best possible service to its customers, offering payroll services, benefits administration, and contracting. To determine whether your organization is eligible to become a customer, please complete a new customer request form and return it for consideration.
Application for Customer Status.
Our customer-focused management system
Since 3sHealth formed, it has been building a culture of continuous improvement and of embedding a patient and customer focus into all of its work. Consistent with its health system partners, 3sHealth uses the "Saskatchewan Health-Care Management System" to improve processes, manage daily work, and develop its team members. This systematic approach has created a nimble, responsive organization with strong daily processes for rapid decision making and improvement on behalf of Saskatchewan patients and families.
Corporate social responsibility
As a not-for-profit organization, 3sHealth is not in a position to make corporate donations. What distinguishes 3sHealth Shares from many other corporate social responsibility programs is that staff members give of their personal time, skills, and financial resources to support worthy causes that enhance the health and well-being of Saskatchewan residents. In this way, the program is fuelled at a grassroots level, depending upon the energy, enthusiasm, and generosity of its authors and engineers.
Ongoing 3sHealth Shares activities include blood drives for Canadian Blood Services and fundraisers in support of the Canadian Mental Health Association - Saskatchewan Division.
Savings Methodology
Generating cost savings
Through improvement initiatives and close collaboration with partners, 3sHealth has generated significant cost savings for the health system. Efforts from provincial procurement initiatives, contract rebates, the linen service, and dictation and transcription services not only strengthened the quality of products and services, but also saved $13.1 million in 2022-23. 3sHealth's shared services initiatives, which began in 2012, have resulted in savings of $631 million as of March 31, 2023. These savings not only benefit patients, but they also provide better value for Saskatchewan taxpayers.