Long-term care residents embrace improved towel
Health system long-term care (LTC) residents are happily embracing the new towel being rolled out in Saskatchewan facilities.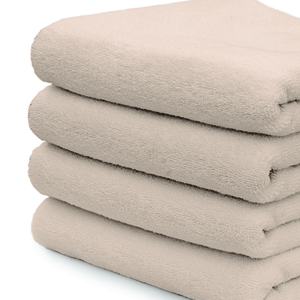 Towels are an important part of the resident experience in LTC homes, where seemingly-small things can mean a lot. Customer satisfaction surveys have seen residents comment that the previous towels were rough, and that a larger and softer towel would be desirable.
With K-Bro Linen Systems, the province's linen services provider, providing about 2.3 million towels to customers every year, a change in product is no small thing. After successfully implementing a new, softer facecloth in 2019, K-Bro recommended the implementation of a new towel being used in other provinces. This new towel is softer, larger, and significantly more absorbent than the previous product.
The new towel was given a test run at two facilities this past summer, with residents and staff both reporting complete satisfaction with the softer, larger, and more absorbent product. Because the new towel is large enough to wrap and dry the patients, staff also reported that fewer towels needed to be used, off-setting the increased weight of the larger size.
A warm reception
"The towels are nice and long and cover the patient's whole body," reported one staff member. "They are very soft and absorbent."
"This towel feels wonderful on my tushy," commented one satisfied resident.
Those positive reports led the Linen Partnership Committee to approve the transition to the new towel across the LTC system. The roll-out has begun, with the old towels being gradually replaced as the new product is received.
For K-Bro Director of Customer Service Jackie Belanger, the change makes perfect sense.
"We are very pleased to hear the positive feedback from patients. This product improves the experience of clients and the health system at every level, delivering a more comfortable product that is also more efficient and cost-effective."
3sHealth and K-Bro are conscientious when it comes time to retire a line of products. Instead of being sent to the landfill, discarded linens from the health system are donated to many different types of charity organizations, including different animal rescue organizations, depending on which are in need. In the past, church organizations have also turned old bed sheets and pillowcases into garments for babies and small children, which are shipped to charitable organizations in developing countries.