Proactive for the plan members
3sHealth understands that it is important for plan members on an approved disability claim to return to their normal course of life as soon as possible.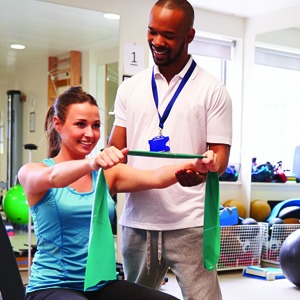 To ensure plan members get the appropriate help when they need it, 3sHealth continues to build strong relationships with health-care practitioners to facilitate proactive treatment for plan members on approved claims. An important part of this treatment includes access to timely assessments and treatment programs when needed.
Assessments enable 3sHealth to better understand the gap between someone's current abilities and the requirements of their occupation.
We increased our use of these assessments as a part of 3sHealth's Path to Health program. The overall goal of the Path to Health was to make the disability claims management process easier, provide additional support during the claim, and communicate with plan members earlier and more often.
These assessments may include: rehabilitation assessments, bringing members together with a physiotherapist to determine treatment needs and the member's return-to-work readiness; mental health assessments; an assessment of the member's job site to get a better sense of their job's demands and whether ergonomic changes may help the member return to work; and functional capacity evaluations that look at the member's physical capacity to work.
After any of these assessments are complete, 3sHealth's adjudicators have a post-assessment call with the assessment team to understand the report and the recommendations for the team.
Proper, thorough information is vital to plan members getting healthy and back to work. These assessments provide the detail needed to facilitate those positive outcomes, an example of which can be seen in the following plan member story.
This plan member volunteered to share her path to health journey. The plan member's name has been changed to protect her privacy.
If you have questions about your benefit plan, call 3sHealth at 1.866.278.2301 or email ebp@3sHealth.ca.
"I was crying out for help," says Abigail.
Abigail is a health-care employee in the Saskatchewan health system. She applied for disability benefits covered under plan for an injury to her arm and for mental illness, and her application was approved.
Abigail's Adjudicator referred her for a mental health assessment with 3sHealth's partner provider. Assessments are an important part of proactive treatment for plan members on approved claims, and 3sHealth's strong relationships with health-care providers ensure timely access to assessments and treatment programs.
Abigail completed the treatment program and started her gradual return to work on May 9, 2022. As of the time of publication, Abigail was on track to fully return to work.
She notes that it was a battle to get through the program, but that she is happy she stuck with it.
"I am so appreciative of the rehabilitation program. I now feel better than I have in years."