Contact Employee Benefit Plans
We're here to help plan members
3sHealth Employee Benefit Plans team members are available to answer employee and employer inquiries.
Be sure to have your five- or six-digit Benefit ID number, found on your Pay Direct Drug Card, handy so that we can serve you more efficiently.
Many ways to get in touch
Live Chat
You can live chat with a 3sHealth Benefit Services Officer on the 3sHealth website. Live Chat is supported Monday to Friday 9:00 a.m. to 4:30 p.m. After hours, your question will automatically be forwarded to ebp@3sHealth.ca.
For information, inquiries, or to make an appointment to speak with someone regarding disability income, group life, health, dental and flexible spending account plans:
Toll-free telephone: 1.866.278.2301
(Hours of operation: 8 a.m. to 4:30 p.m., Monday to Friday)
Extension 1 - Disability Income Plan
Extension 2 - Canada Life
Extension 3 - General inquiries
Extension 4 - Employer Partners

Fax: 306.347.5910
Email us
Inquiries and requests for assistance for all benefit eligibility, claims and coverage, retirement, and life insurance can be made by email: ebp@3sHealth.ca.
Who do I contact when?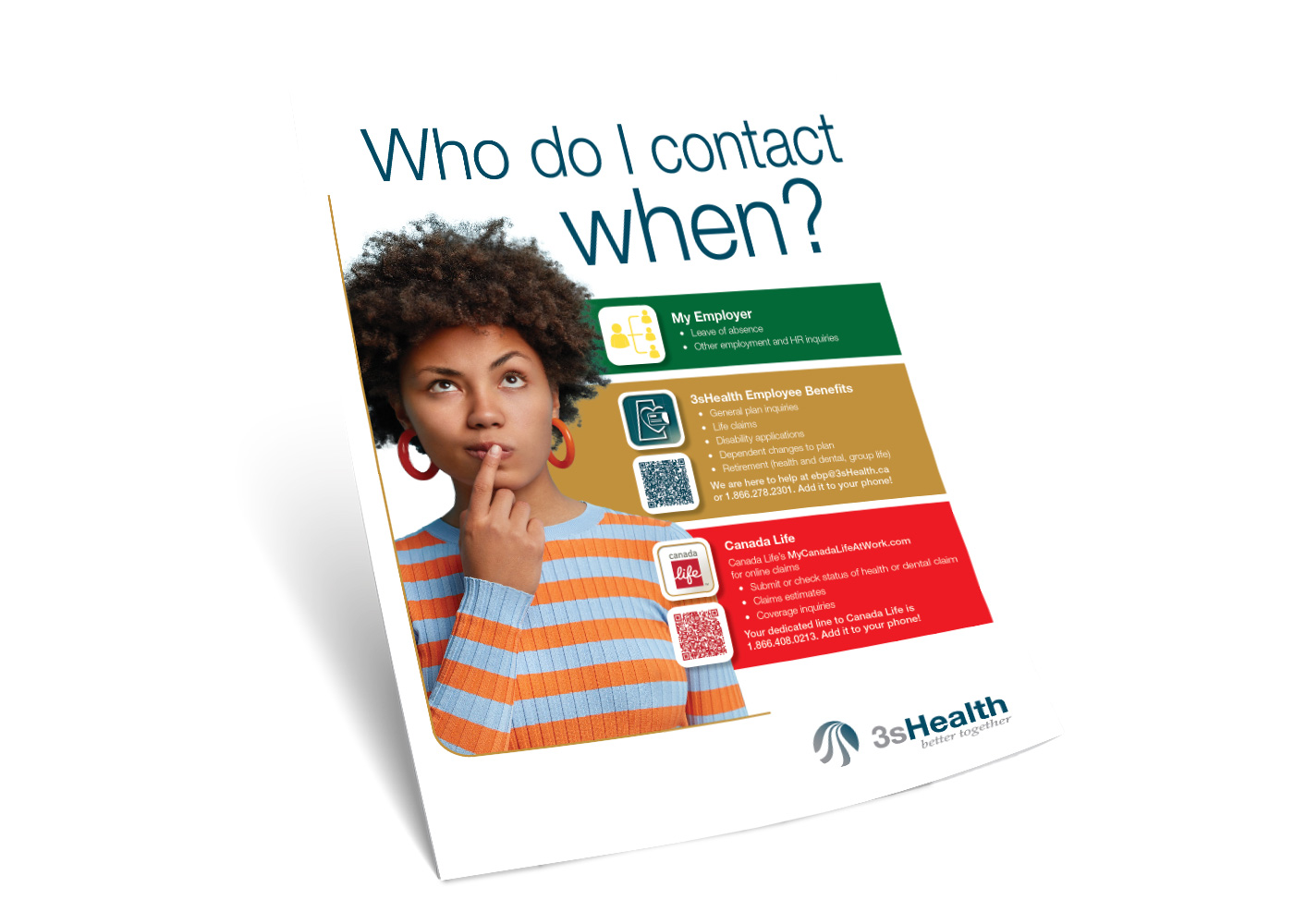 When you need to access your benefits or are looking for more information, the last thing you want is to waste time contacting the wrong organization.
While 3sHealth administers your Employee Benefit Plan, we are not always the best contact for your questions or requests.
Your employer, 3sHealth, and Canada Life all play important roles in the process.
Please consult this poster to ensure you are contacting the right organization for the right reasons.
Legal notice
The Employee Benefits area of the 3sHealth website is for general information only and does not take the place of financial or legal advice. The website information is not intended to supersede or replace the terms of the official insurance policies or plan texts and should not be used to determine your legal rights under any of the Employee Benefit Plans. If you have questions about your rights to benefits under any of the benefit plans, please consult a copy of the official plan document. In the event that any information on this website conflicts with the official insurance policies or plan texts, or any legislation governing the plans, the provisions of the official insurance policies, plan texts, and governing legislation will apply.
Related Files
Privacy Policy and Statement for Plan Members

The purpose of this document is to describe how 3sHealth, as the administrator of the Employee Benefit Plans, will collect, use, disclose, and protect the personal information and personal health information of plan members.